Home again – 22 August! Tony & Sarah Boas
We are again leaving Ione in Ayamonte, this time for 3 weeks, and will return on 12 September. We last put some pictures on the blog a fortnight ago in Chipiona, so a résumé of the last couple of weeks:
We spent a couple of nights in Chipiona on 7 & 8 Aug before setting off to Mazagón, some 30 miles to the NW. With very little wind, this was a motor for most of the way.
Mazagón is a large, rather impersonal marina undergoing development, but with some bars around the pontoons with good wifi access. Just before we arrived we noticed that the wind instruments had failed – again! It was therefore with some trepidation that Tony headed up the mast expecting to find an insoluble problem. However amazingly the fault was obvious – a break in the plastic retaining screw top which holds the instrument to the mast. Although the instrument had shaken loose enough to break the contact, it had not fallen out thanks to the gentle conditions. A session with superglue and self annealing tape and another trip up the mast solved the problem.
We left Mazagón the next day, again with very little wind, to head west to Marina Isla Canela, on the opposite side of the river to Isla Cristina which we had visited a couple of weeks earlier. As the picture above shows, this is a modern marina with a 'marina village' type atmosphere.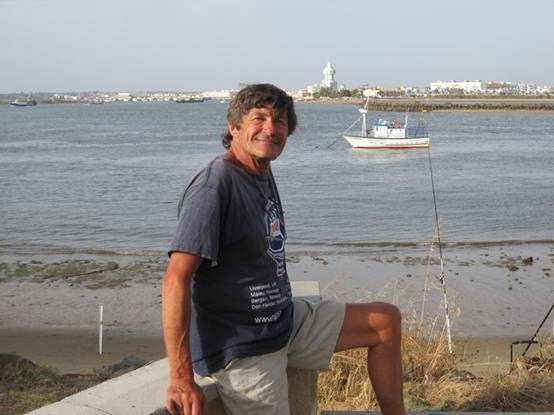 We spent a couple of nights on Isla Canela – it is only a short walk to a beach with some surf from the southerly breeze. The area around the marina is in two halves – a Spanish bit with good tapas bars, populated almost exclusively by Spanish and Portuguese families, and an English bit, with the two wifi bars, football on television and menus of fish + chips, chicken + chips etc.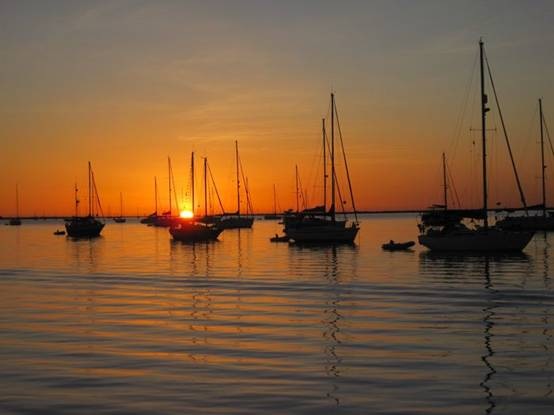 From Isla Canela we headed back to our favourite anchorage in the lagoon off Ilha Culatra where we spent a further three nights. Despite the number of boats at anchor, there was still plenty of space and the holding was good. The water temperature was well up from our last visit at 28°C so excellent swimming.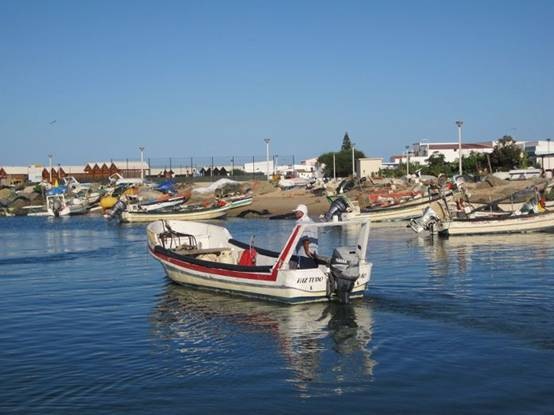 Taking the dinghy, we could leave it in the fishing harbour.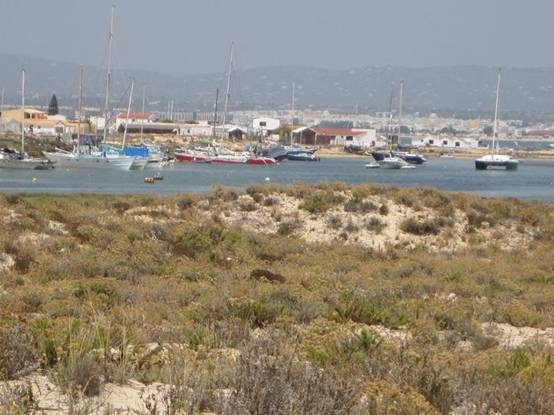 And walk to the beach by way of the live-aboards in the lagoon.
We could easily get as stuck as live-aboards on Ilha Culatra, so, after one night in the bright lights of Vilamoura meeting Joss Goulder who had flown to Faro to join us for a week, we returned to Culatra for another three nights…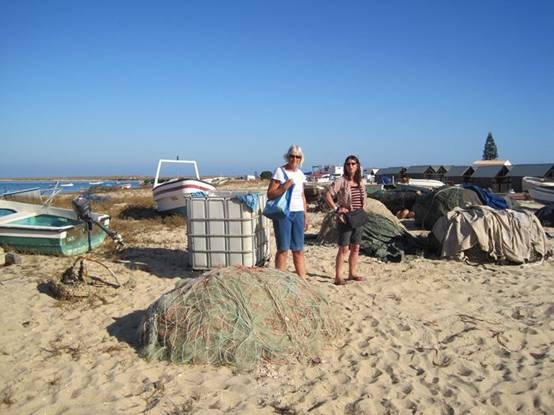 …spent swimming or ambling ashore…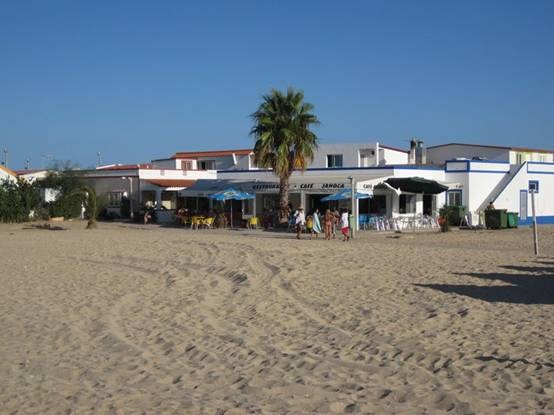 … or having a sardine lunch and a drink at the bars. Very lazy!
Leaving Culatra with some regrets on Friday 19th we headed back to Spain and Marina Isla Canela, marking our return to civilisation with a large tapas meal.
Thence for a night in Vila Real on the Portuguese side of the Guardiana, opposite Ayamonte. An attractive town, although the tide rushes through the marina. We ate ashore, enjoying the street parties, with rumbles of thunder. That night the heavens opened with thunder, lightening and a downpour carrying quantities of red dust, covering everything.
Yesterday we went a few miles up the Guardiana to anchor for lunch before returning to our base here in Ayamonte.
Today – domestics, washing & tidying, awaiting Antonio, our driver, to take us to Faro airport this evening.
Tony & Sarah
Ione – 22 August 2011 – Ayamonte